The Best Google Chrome Extensions To Make Your Life Easier
There is no doubt that Google Chrome is the most popular browser in the market. The browser's minimalist interface and fast design appeal to a wide range of people. However, Google Chrome's real power lies in the huge library of add-ons that make a user's browsing experience better. In fact, the Google Chrome Web Store has 188,620 extensions that it is very hard to know which add-on will make a difference in your life.
That is why Maticstoday has put together this list of the best Google Chrome extensions. These add-ons are the ones installed on our browsers as well. So, give them a try and make your time on the web great again.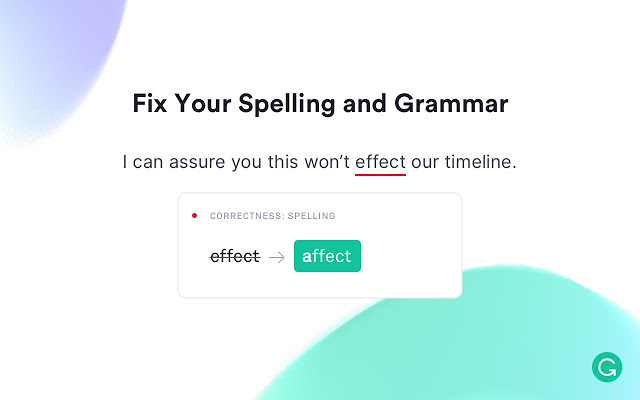 1. Grammarly
From grammar and spelling to punctuation and style, Grammarly helps you fix writing mistakes. As you write on Gmail, Twitter, LinkedIn, or any other website, you will get suggestions from Grammarly. The company's algorithm automatically underlines the errors in red and suggests corrections for wordiness, spelling, tone, style, and grammar.
Other Features: the pro version also provides a plagiarism detector that checks your text against 16 billion websites.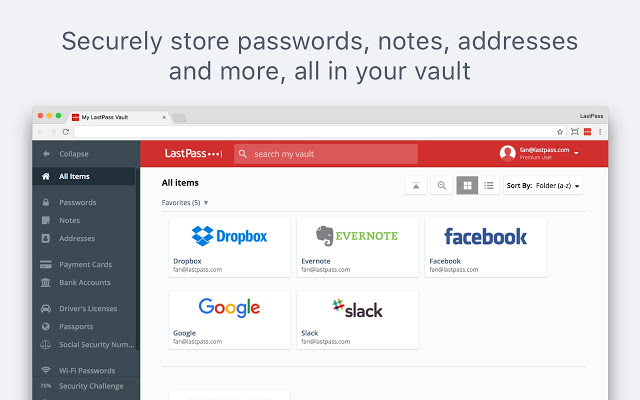 2. LastPass
Are you tired of always creating complex passwords and then remembering them later? Do you wish that websites would automatically fill in your usernames and passwords? Well, there is a Google Chrome extension that does all of this and much more.
LastPass is a password manager, that saves your passwords in a vault and lets you access websites securely from any device. The interesting part is that you only have to remember only one password – your LastPass master password. All the other usernames and passwords can be saved to the vault so that LastPass will automatically fill in the fields for you when you visit a website.
Other Features: LastPass also has the ability to generate secure and complex passwords. Furthermore, if you ever fill out a form on one website, LastPass has the option to remember the information and automatically fill out forms in the future.
You May Like: Avast Antivirus Is Spying on Your Clicks and Selling the Data to Tech Giants
3. Adblock Plus
Do websites load slowly? Are too many ads causing interruptions while watching a video on YouTube? Adblock Plus is the solution to all these problems. This free extension allows you to customize your web experience. You can block annoying ads, disable tracking and much more.
Other Features: Adblock Plus also blocks viruses and malware that are sometimes hidden in ads. If there are any sites that your trust, you can whitelist their domain so ads on that website show (since most websites run on revenue generated by ads).
See Also: Top 10 Apps and Games of the Decade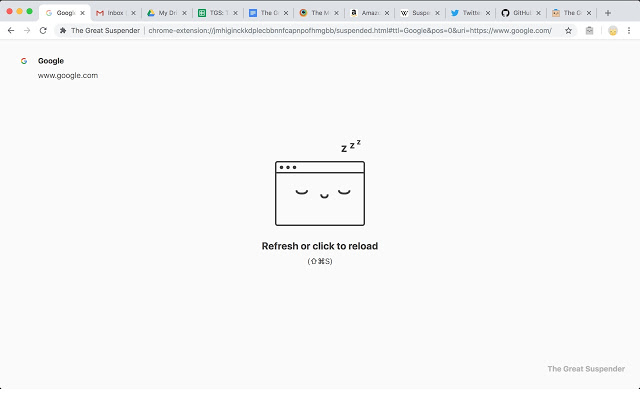 4. The Great Suspender
Are you the type of person that has numerous tabs open at the same time? Is your computer slow because all the memory is being used by the browser? Well, The Great Suspender is a lightweight extension that suspends tabs that are not being used. The extension reduces chrome's memory footprint so that it can be used for other system tasks. Tabs that have not been viewed after a certain amount of time (e.g. 1 hour), will automatically get suspended, freeing up the system memory and CPU.
Note: The Great Suspender is able to detect tabs that are playing audio (e.g. Spotify), so the extension does not suspend these tabs. Furthermore, the extension does not suspend tabs that contain forms with user input.
You May Like: Google Translate App will Transcribe and Translate Conversations in Future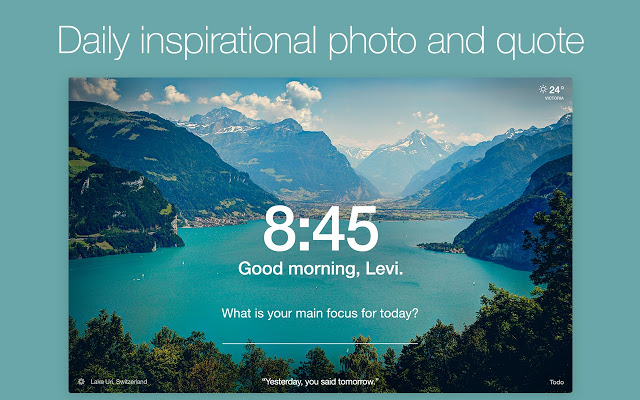 5. Momentum
Replace your boring new tab page with a personal and customizable dashboard. Momentum's new tab gives you an inspirational code and a beautiful scenery photo daily. You can also set a daily focus goal, and create to-do lists. Eliminate constant distractions and beat procrastination with Momentum. Get inspired daily and do great work.
Other Feature: See the weather and forecast right on the dashboard.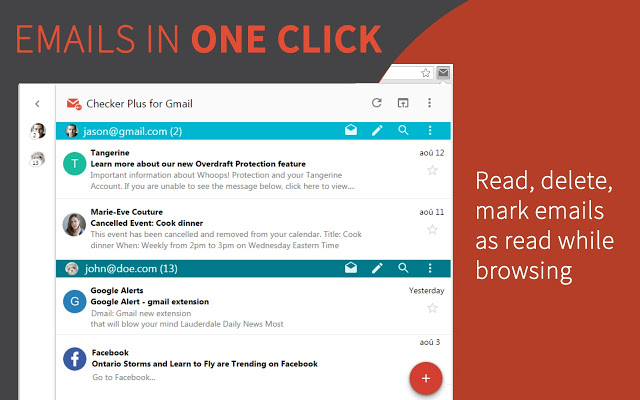 6. Checker Plus for Gmail
I don't know about everyone else, but when I open Gmail on the web, the site takes forever to load. And when I click on any mail, it takes a long time to open. That is why Checker Plus is one of my favorite Google Chrome extensions. I get notifications, read, and delete my emails without ever opening Gmail.
You May Like: Apple Google and Amazon team up to Develop Open-source Smart Home Standard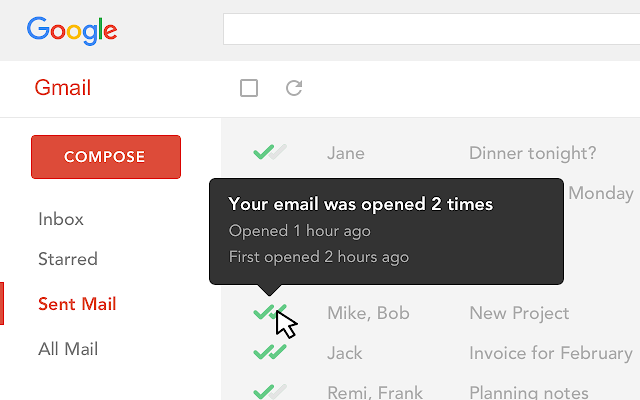 7. Mailtrack
Have you ever sent an email and the recipient never replies back? What if you misspelled the address and the email never reached them? Or have you ever sent an important email that needs to be read right away, but you don't want to keep bothering your colleague? Well, Mailtrack is a free extension in the Chrome Web Store that traces emails.
Mailtrack is an email tracking extension for Gmail that lets you know if the emails you have sent have been read or not. One green checkmark means that your email has been sent but not opened. Two green check marks mean that your email has been opened.
Other Features: you can also check how many times an email has been read.
Also Read: Google Spam Protection- A New Feature for Android Users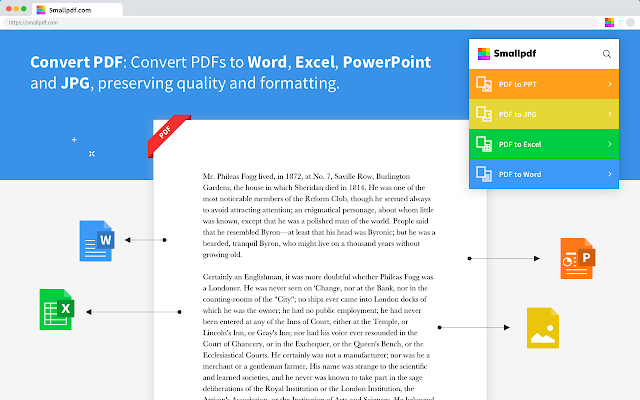 8. SmallPDF
Have you ever written a business proposal in Word that later needs to be converted into PDF? Or have you ever been in a situation where three or four images have to be merged into a single document? SmallPDF is a handy and easy-to-use extension that edits, converts, merges, splits and compresses PDF files.
The extension can convert PDF files to Word, Excel and PPT formats and vice versa. You can also convert images to and from PDF. Moreover, merging, splitting and extracting PDF is also possible with SmallPDF.
Other Features: the extension is integrated with Gmail. So, you can compress and attach PDF files directly from your email.
You May Like: Google Messages – iMessage for Android Phones
In short, I use all of these Google Chrome extensions on a daily basis and I can confidently say that they have made my life a lot easier. I like how websites load faster since they are not cluttered with ads and how I don't have to remember various passwords since LastPass auto-fills the fields for me. I appreciate being able to view my mail without opening Gmail and having Grammarly gives suggestions to fix my writing mistakes.
Do you use any of these Google Chrome extensions? Were there any that surprised you? Which ones will you install on your browser? Let us know your thoughts in the comments below! Continue to check out Maticstoday for the latest news items, product reviews, security practices, and video game discussions.